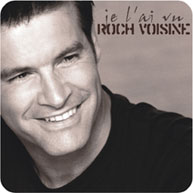 I FIND MYSELF IN AWE WANTING TO CLING TO ROCH
CHARMED BY HIM AS HIS VOICE MAKES ME QUIVER
I HAVE BEEN ADMIRING HIM FOR TWO DECADES NOW
HE IS A STAR BUT I – A LOST FORLORN FAN
I WROTE AND SENT HIM SEVERAL SONGS IN THE PAST
SOME ENTITLED "MUSICAL MAN", "ONE OF A KIND",
"A PASSPORT TO HER HEART", "I LOVE MON MINOU"
I RECORDED AND MAILED THEM BUT HE NEVER RESPONDED.
HE IS NOW HAPPILY MARRIED AND HAS TWO CHILDREN
I FIND MYSELF HAPPY FOR HIM AND HIS MYRIAM
HE CHERISHES THE ONE HE WAS LONG AWAITING FOR
I FIND MYSELF WITH HIM CELEBRATING HIS FESTIVITIES
HIS LYRICAL MUSIC FROM THE FIRST SONG "HELENE"
MADE ME LISTEN TO ALL HIS LOVELY MASTERPIECES
I WILL MEET HIM AND HIS FAMILY ONE DAY SOON
BECAUSE THIS PROHPHECY CAME TO ME MYSTERIOUSLY
ROCH VOISINE HAS BEEN MY BEST FRIEND FROM AFAR
I BELIEVE THAT I HAVE REMAINED HIS ENDEARING FAN
I DREAMED AND PRAYED THAT ON HIS VERY LAST CD
THAT HE'D SING ON IT A SONG RELATED TO ME
WELL LO AND BEHOLD HE IMPLEMENTED IT AS PROPHESIED
AND RECORDED "AND I LOVE YOU SO!" MY SONG.
THE ONE THAT I HAVE BEEN SINGING ALL LIFE LONG
I BELIEVE THAT ROCH AND HELENE WERE MEANT TO MEET
YOU SEE WE'VE BEEN WRITING LYRICS AND SONGS FOR A WHILE
IT'S TIME TO START WRITING ABOUT OUR LITTLE PROFILE
WHAT A DISCOVERY RE. OUR LONG AWAITED BIOGRAPHY
THIS WOULD ENHANCE OUR RELATIONSHIP PERSONALLY
DOING A JOURNAL BRINGS AN ABUNDANCE OF LITTLE JOYS
IN TIME OUR POEMS TO BE CONSIDERED SUCH DUETIC TOYS
OUR POETRY SERIES WILL  EVENTUALLY BE IN DEMAND
THIS COULD BE A GREAT SELF-STUDY AT OUR COMMAND
IT APPEARS WE ROCH AND HELENE HAVE A SWEET HEART
TRUE FRIENDS LIKE US PRAY A LOT AND NEVER FALL APART
OUR SKILLS, TALENTS AND TREASURES ARE ADMIRED
AUDIENCES COME OUT WITH CHEERS SO WHOLE-HEARTED
THE EXPOSURE OF THIS FRIENDSHIP IS ABOUT TO BE DONE
EXCITINGLY EVERYONE WIL STUDY IT AND HAVE SOME FUN
WE WILL NEVER KNOW WHAT TO EXPECT ONCE BEGUN
OUR POETIC FLAIR WILL BRING OUT OUR WORDS SPUN
SOMETIMES WE'LL HEAR SOME FOLLIES AND ABSURDITIES
UNDERSTANDING AS WE EXPRESS OUR SUPERFLUITIES
OUR LIFE WILL BRING PEOPLE INTO THEIR COMEDIES
AND THIS POETRY WILL FOR MANY BRING NEW REMEDIES
THIS IS NEWSWORTHY LEAVING THE PUBLIC SPEECHLESS
WE STUDY WITH GROWTH, SERENITY AND YOUTHFULNESS
CREATING A WORLD OF WONDER IN THIS NEW AWARENESS
THEATRICAL AND MUSICAL SHOWS WILL COME WITH  ARTFULNESS
THANKS TO ROCH AND HELENE WHO BRINGS ONE OF A KIND FINESSE.