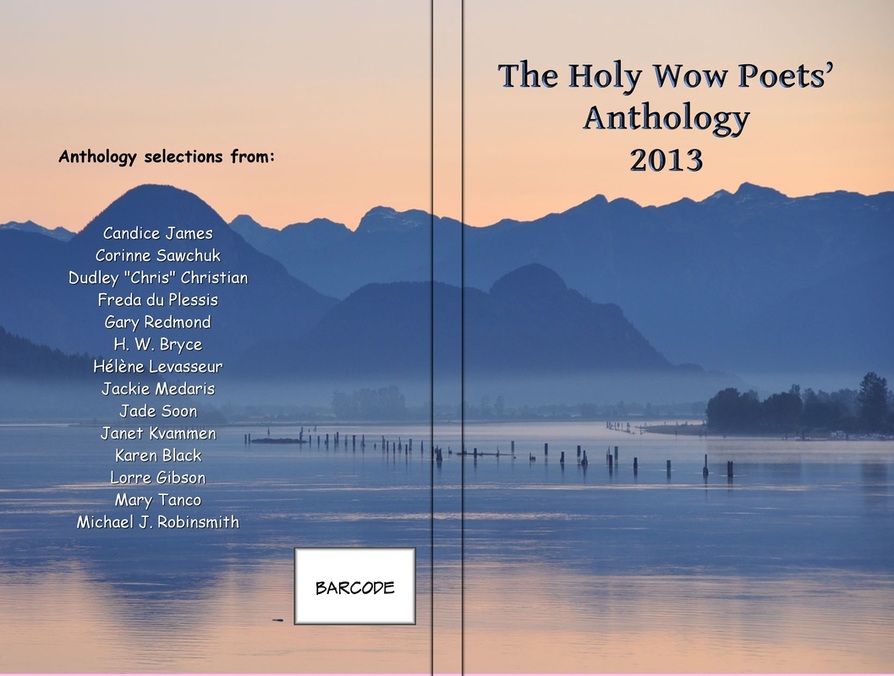 WELCOME LADIES AND GENTLEMEN TO THE HOLY WOW POETRY CLUB AT THE ACT THEATRE. THIS IS THE 4TH YEAR THAT WE'VE BEEN WAITING FOR.  ACTUALLY IT'S THE BEGINNING.  IT'S A DEBUT AND A CULMINATION AT THE SAME TIME. WE LET GO THE OLD AND ENTER THE NEW!
OUR HOLY WOW POETS ANTHOLOGY 2013 HAS BEEN LAUNCHED FOR THE JOY AND MERRIMENT OF ALL READERS. WE ARE PROUD AND EAGER TO SHARE OUR MASTERPIECES WITH THE MAPLE RIDGE/PITT MEADOWS COMMUNITY AND ACROSS THE LOWER MAINLAND…
YOU SEE WE'VE GOT THE GIFT OF GLEE FOLLOWING OUR ANTHOLOGY FESTIVITY AND WE ARE SO PLEASED TO GATHER ALWAYS TO HEAR PEOPLE PONDER AND ALSO LAUGH AS THIS ILLUMINATES OUR BELIEFS AND ASSUMPTIONS THAT WE ARE TRUE BLUE POETS. 
LET US RESTORE THE SPIRIT OF PLAYFULNESS THAT IS VITAL TO OUR HOLY WOW POETIC RELATIONSHIPS AS THIS MOMENT WILL BE A TIME OF PROMOTION, SUCCESS, GRADUATION, PRAISE AND MORE POETIC FUN AND PLEASURE LEADING US ALL INTO SOMETHING SPECIAL IN OUR LIFETIME.
LET US BECOME FRISKY AND FULL OF FLAMBOYANT POETIC STYLES, THEATRICAL AND MUSICAL. SAYING THE SKY IS THE LIMIT IS LESSENING THE OLD SAYING THAT "EVERYTHING IS POSSIBLE WITH GOD". 
MAY THIS MAGICAL TIME FIND US ALL IN GOOD SPIRITS AND THAT HEALTH, JOY AND HAPPINESS ARE OURS THROUGHOUT THE YEARS.
IT IS THROUGH THESE MONTHLY RECITALS  AND DEVELOPING OUR ANNUAL ANTHOLOGY THAT WE DEVELOP CHARACTER CONNECTING WITH ONE ANOTHER AS WE DEVELOP OUR FULL POTENTIAL FOR A THEATRICAL AND MUSICAL PLAY OF THE FUTURE. WHY NOT AT THE ACT'S MAIN STAGE!
SO WITHOUT FURTHER ADIEU LET US WELCOME OUR HOLY WOW POETS WHO IMMERSE THEMSELVES FULLY IN THEATRIC POETRY RECITALS WITH FULL VIM AND VIGOUR ALWAYS.