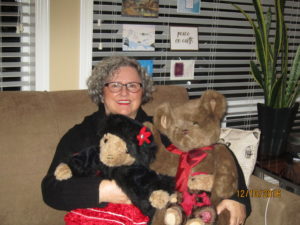 My big Teddy is a gift from my sister Marcelle
Look Mars he's now got a family so swell
Touched, moved and inspired was I
When I  received it at the Hospital in 1995
Every Christmas His Family embellishes my home
The Family Room becomes with them so wholesome
You see your kindness of heart, soul and mind Mars
Lives with me at Jesus' Birth and makes me feel ?
Oh dear what rhymes with Mars?
Working on this poem still.
Love you Marcelle ma belle!